READ the ebook
Your guide to choosing the right video agency
You've decided to do a video to promote your business, but you know there are a lot of moving parts and you aren't sure where to begin. Finding the right production team can be stressful.
Are they helping you make important technical decisions?
Will they help you develop and convey an effective message?
How can they help you maximize your ROI?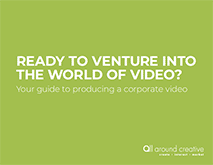 There are many decisions to be made, a lot of technical terms to wrangle and a hectic timeline that never seems quite fast enough for your business needs.
But producing your video shouldn't be overwhelming. Instead, it should feel like you are walking down the red carpet, a superstar in the film that is your business.
And a good production agency will feel more like your professional manager, taking care of all the details and leaving you to bask in the fame. So relax, and enjoy our guidebook as we outline the top 10 tips to bring your video to the big (or small) screen.