Download the eBook
Your guide to choosing the right web agency
Designing and implementing a new (or replacement) website may seem daunting, but the process doesn't have to be complicated — especially if you have the right web development agency working with you. So how do you find the agency for you?
You should partner with an agency that has a proven track record of:
Site architecture & UX
Digital design and functionality
Content development
SEO & SEM best practices
A partnership approach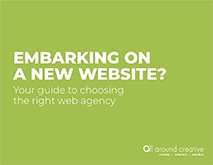 Download our handy guide to see exactly what you should expect as you embark on your journey to build a new site.